Comments: My first Home Run Baker card was a M116 PSA 4 purchased on eBay in May, 2003. I swapped it out for a 1915 Cracker Jack PSA 3 after winning another eBay auction in July, 2004. In January, 2007 I made another change when I purchased a trimmed copy of a 1911 D359 Rochester Baking card off the Net54 board from hobby friend Zach Rice. Three months later the card was submitted to PSA and graded "Authentic". But, I really wanted an example with a numeric grade. In June, 2008 my wish came true when I found and won a PSA 1 example in the Brockelman/Luckey auction. It has some flaws - wrinkles and light creasing - but still has a nice look overall. Back is fairly clean too.
UPDATE: On November 11, 2015 I was checking eBay and the following card showed up…a little too much for me but a tempting auction:
UPDATE: I had a 1911 Rochester Baking card graded PSA 1 and awhile back learned it actually pictured Cy Seymour (not Frank Baker):
| | |
| --- | --- |
| | |

I wasn't actively looking to replace it with anything until I received the 2016 REA Fall auction preview announcement. The auction offered a 1911 Wanamaker Home Run Baker postcard graded SGC 45 and I had never seen it before. It was an amazing portrait, perfect for my collection. Auction day happened to be my son's 5th b-day yesterday, so I wasn't going to let this "souvenir" get away. The auction ended on a Sunday and extended bidding lasted most of the evening. I was outbid several times, and each time i bumped the bid back in my favor. When the final hammer hit just before 10pm MST, my last bid held up and I was declared the winner. The auction described the item as a 1:1. I didn't research it any further until after it was won. One other example turned up in my Google search, a used postcard with a US postage stamp on the reverse. The PR-FR example had sold only four years prior in a Lew Lipset auction and I missed it. Here's the listing...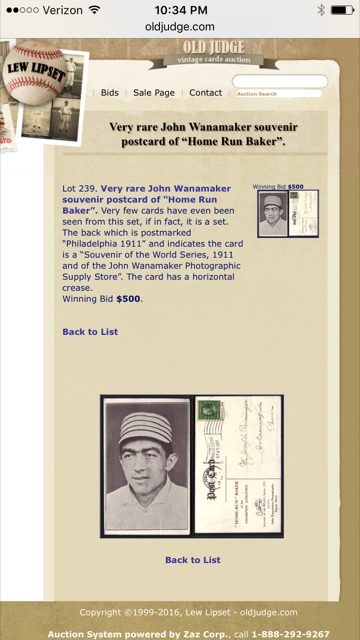 My curiosity pushed me to dig a little further and I learned my example came from the Dan Gantt collection. REA had been selling off one of the premier baseball card type collections ever assembled over the past few auctions, and it included this 1911 Wanamaker card. I tried to get in touch with the former owner to learn more about it's history but never heard back. Oh well, now it's mine!