Comments: I wasn't in a position to buy a period piece of John Clarkson when I started putting this collection together. I ended up finding a 1975 Fleer tribute card at as baseball card show (National?) and had it graded by PSA shortly thereafter in March, 2004. I've been looking for a contemporary replacement ever since but its been a tough search.
UPDATE: In April, 2015 this gorgeous example of a Four Base Hits card came up in a Heritage auction. I didn't have this type card represented in my collection and it was high up on my "If I was a millionaire" checklist. It would be perfect. Friends in the hobby were predicting the card might hit six figures. So, for giggles and to scare my wife, I placed a bid and was the high bidder at $22K. Not suprisingly, I was outbid and the card ended at $95,600. I had to find something else...
UPDATE: Within a couple weeks of the Four Base Hits Clarkson card selling, the spring Robert Edwards Auction kicked off and when I looked through the preview one card caught my eye. The quality of the 1888 Conly image is impeccable - perfect light and perfect resolution. I placed a bid and was the high bidder up until the final day of the auction. That evening of April 25, 2015 my wife and I had date night and we were at a local pub / restaurant crawl called Totally Tennyson she helped organize. It was late and I checked my emails for the first time all evening. The REA reminder emails popped up on my cell phone. CRAP! I had totally forgotten about the auction. I pulled up the REA contact information and called the auction house just in time to place a bid. It was after 1am MST (3am on the east coast). Brian Dwyer, a hobby friend, answered the phone and I asked him to call me back if I was outbid. I didn't get a call. The following morning I checked my account to see if it was true and sure enough this beautiful card showed up on my laptop screen!

My three year old son was sitting next to me. The week prior, we went to a train museum for one of his friend's birthday parties, and he received a hat as a party gift. He looked at the card with me and said, "Why is that man wearing a train conductor hat?" Here's my other Clarkson...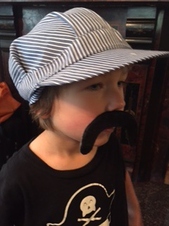 I called Brian again the next morning to thank him for taking my call. He shared the fact this item came from Jim Blumenthal's collection and it made me smile more. I had known Jim for many years and considered him a hobby friend. My last telephone conversation with him was circled around my O'Rourke card (the west coast night owl in this story). I know Jimbo is looking down and smiling about this pickup story and I couldn't be happier. He reached down and tapped me on the shoulder the evening of the auction closing and reminded me to place a bid. I couldn't be more grateful. Miss you...
UPDATE: In June, 2015 I picked up a PSA 10 tribute card issued in 1975 by Fleer with the same iconic Conly image: