Comments: I picked up a couple tribute cards of Comiskey - a 1984 Renata Galasso Deckle Edge card and a 1976 Shakey's Pizza card in April, 2003 off eBay. In November, the Comiskey was sent to PSA and graded NM-MT 8. In March, 2010 I replaced the tribute card with a 1887 N28 SGC 50 card after winning an eBay auction from Joseph Esposito (b-e-collectibles). I'd like to upgrade this one to an EX or EX-MT example.
UPDATE: In June, 2016 I found a potential Comiskey upgrade and eyeballed the auction daily until 6/8, the last night of the auction. The card looked sharp with good color and the price was comparable to values listed in the SMR for the grade. Here's the screenshot with 30 seconds to go and my bid amount…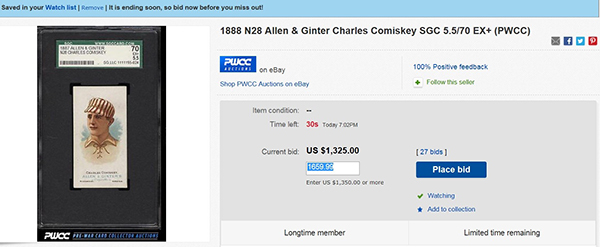 I submitted the bid with three seconds to go and winner, winner, chicken dinner, whatacard-you're the winner!
UPDATE: Was following the Heritage Auction ending 08/27/2016 and a PSA 8 closed for $33,460 with juice - incredible! Here's the auction link.
UPDATE: In September, 2016 another PSA 8 showed up on eBay and sold: