Comments: Finding a high-end 1990 Donruss Schilling has been a struggle. When I decided to go with this issue for Schilling I picked out the best example from my own stash of 1990s baseball cards collected during my teenage years. I submitted it to PSA and it received a NM-MT grade. Graded examples are just not offered since I started searching for one in early 2011. I wanted to uprade the PSA 8 and purchased a full wax box of 1990 Donruss via eBay in April, 2011 for $10 including S&H. I opened pack after pack and would you believe, not a single Schilling card - no kidding. After looking through the other cards I learned a large percentage of them have rough edges or dinged corners. Some collecting friends informed me picking up a factory set would be my best bet. At the 2011 National Chicago I looked for a set - not the hottest item mind you. And, on Sunday as I was exiting the show I found one by absolute accident. At the hotel, I opened the set and found the Schilling card in sequence. Unfortunately, one of the corners is slightly white. It's not a good submission candidate. On August 21, 2011 I found an eBay auction where the seller advertised an example as MINT straight from a factory set. I should receive it in a few days - we'll see if it's the upgrade I've been looking for. Nope - not it. The search continues until Nov 8, 2011 when I find this PSA 9 example on eBay. I still would like a GEM copy....
UPDATE: In late 2013, I submitted two GEM copies of this card cherry picked from a group of 37 cards I purchased six months earlier on eBay. On January 29th, the cards came back from the grading company and I opened the box with great anticipation. Unfortunately, to my disappointment PSA graded both MINT 9. So, still no ten…arghhh!
UPDATE: I was walking the floor at the National in Cleveland in August, 2014 and came across a booth with some cheap 1990s factory sets. $5 each or 3 for $10! There were three 1990 Donruss sets and I wanted them. I asked the dealer to hold the sets and joked - "Don't tell anyone I'm buying these things". At the end of the show I carried them across the show to the exit, trying hard to avoid friends from seeing the sets under my arms. If there's ever been a set to be considered crap by collectors it's 1990 Donruss (or 1991 Fleer). I didn't have a bag. Whatever - I like 1990 Donruss! Unfortunately, it was the wrong exit. I was parked on the opposite side, no joke. So, there I was lugging the three sets back the other way to the other side of the I-X center. I got out without having to explain. One of these better yield me a GEM MT example damn it: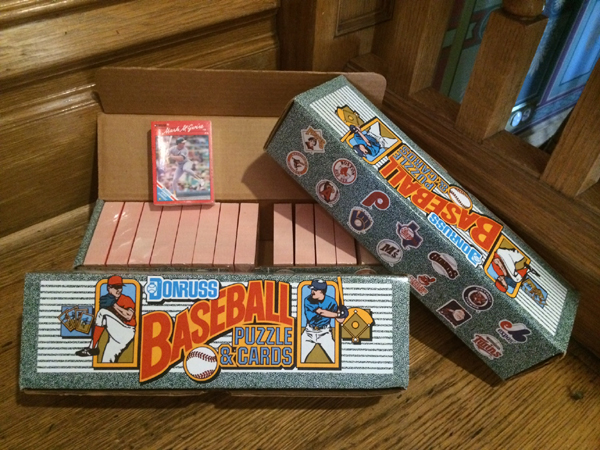 UPDATE: I sent off three examples to PSA, along with 136 other sportscards, with hopes of scoring an upgrade. After three months of waiting the cards were returned to me on December 10th. I didn't open the box all at once to reveal the grades but had my kids randomly pick four cards to share with me on a daily basis to keep the excitement going. This is the best part of getting cards graded...what's it going to be? On Day 7, this one was pulled out of the box - a PSA 10, FINALLY! Click here for the full results of the submission.