Casey Stengel

(b. July 30, 1890 - d. September 29, 1975)

A good outfielder, Stengel's two homers in the 1923 World Series helped the Giants beat the Yankees. As manager of Brooklyn and Boston, he earned a reputation as an entertaining, if not very effective, skipper. His creative use of the language, dubbed "Stengelese," made him a fan favorite. Named Yankee manager in 1949, "The Old Professor" won 10 pennants in 12 years, plus seven world championships. He had a career 1,905-1,842 record.

Inducted in 1966

1923-4 Exhibits (Made in U.S.) Casey Stengel SGC 60 EX
| | |
| --- | --- |
| | |
| Click Image to Zoom | Click Image to Zoom |
Comments: It had been quite a journey with the "Old Professor" - purchasing a 1962 Topps PSA 8 in February, 2005; a 1950 Bowman PSA 8 in September, 2005; a 1951 Bowman PSA 6 in June, 2006 followed by a 1961 Scoops PSA 8. On January 16, 2011 I was browsing eBay and came across a 1923-4 Exhibits Stengel PSA 3.5. It was completely an impulse buy. I had seen the card before and loved the picture but the price was always very high. It was just a better card when compared next to my 1961 Scoops PSA 9 (won on eBay in April, 2008 to upgrade the PSA 8 mentioned above). I didn't have a single card from this year of Exhibits. Also, it's possible former Angels owner Gene Autry may make the Hall of Fame someday and he has a great 1961 Scoops card. So I pulled the trigger.
UPDATE: I remember seeing this Stengel on eBay and not selecting the Buy It Now because the price was a little high. Well, in March 2015 I came across the card again from seller BMW and decided to ping my friend Brian with an offer. It was considerably lower than his asking price but I figured he might consider it. I remembered sitting with him up in the nosebleeds at an Indians game this past July and dealing with the noise coming from drummer John Adams: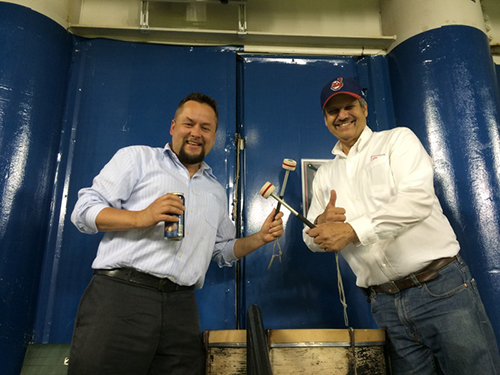 One of our mutual friends had arranged group tickets for us during the National. It was an interesting experience. Anyway, Brian countered with a reasonable price and we agreed to a deal. I'm the new proud owner of a gorgeous Stengel – the highest graded example to date.
Brian mentioned having a regular supplier of rare high-end collectibles who would often come to him with amazing new "finds". This card was included in a group of Exhibits the gentlemen found in Exhibit Supply Company vending machines. Here's some additional information about the card from the original eBay listing: "Obtained directly from the son of the man who collected a group of 1921, 1922, and 1923-24 Exhibits at the Provincial Fair of Ontario. The origin of this collection strongly supports the theory that the first three baseball issues from the Exhibit Supply Company (ESCO) of Chicago were consistently distributed over a four-year time period, rather than during just individual years. The confirmed provenance also answers a long-posed question which is where the "Made in U.S." stamped-back cards originated from. These cards were legally exported to Canada and therefore were required by Customs to be marked as a product from the United States."
Card Details Below:
Year(s):
1923-4
ACC Set Designation:
Set Name:
Exhibits
Country:
United States
Description:
The Exhibit cards for 1923 and 1924 are generally collected as a single 128-card series. The format remained basically the same as the previous year, 3-3/8" X 5-3/8", with black-and-white photos (some surrounded by a white border) and blank backs. The player's name is again shown in script with the position and team printed below in a small, square block-style. Many of the same photos were used from previous years, although some are cropped differently, and some players have new team designations, background changes, team emblems removed, borders added and taken away, and other minor changes. Fifty-eight new cards are featured, including 38 players pictured for the first time in an Exhibit set.