Comments: A solid NM 7 card with three NM-MT corners and one NrMint. 70-30 centering all-around and clean reverse. The Arky Vaughan has always been one of my favorite images from the 1941 Play Ball set and I first picked up a PSA 7 in October, 2000. The card displayed three NM-MT corners and one NrMint with 70-30 centering all-around and a clean reverse:
UPDATE: In the early morning hours of December 9th, 2016 I lay awake in bed watching the clock tick down on the Goodwin auction. Just a few days earlier I had received the catalog in the mail and found a 1941 PSA 8 example listed. Some snow or sticker remnants appeared on the players face/chin in the scan of the card posted online. In my opinion, this was a key reason nobody had placed the $200 minimum bid on the card with just 24 hours left in the auction. I went ahead and did so with the chance glue residue or scuffing was actually on the holder and not a flaw of the card. I doubted PSA would have missed this blemish and given straight numeric grade w/o qualifiers unless it was a truly nice card. I convinced myself it wasn't a card issue. One other bidder agreed on the final day of the auction and outbid me. Once the auction entered extended bidding it was head-to-head between just the two of us. Nobody else would be allowed to post bids since the rules forbid new action entrants during extended bidding. I placed one final bid around 11pm. I stayed up until 3:15am monitoring the item to ensure I wasn't outbid but fell asleep. A few hours later, exhausted, my kids playing woke me up and I checked the auction again. I was the winner! At that point I called the auction house, out of curiosity, and asked them to pull the card and verify the condition. Indeed, the scuffing was on the holder and my gamble had paid off. It was just a very poor picture online and not a true reflection of the clean, NM-MT perfection of the card. Here's the way the card appeared online: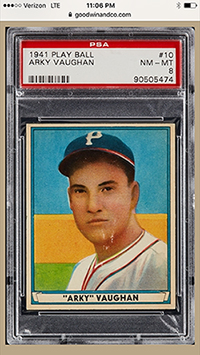 I'll send the card off to PSA to be re-holdered into a clean, scratch-free slab. In the meantime, I scored a great upgrade for significantly less than full book value. The final hammer price w juice and S&H = $290, whereas SMR listed the card at $525.