Comments: In May, 2003 I purchased a raw 1994 Archives card on eBay. Soon thereafter I submitted it to PSA and they graded it MINT. The tribute card was a placeholder until I had the means to buy an item contemporary to Rusie's career. Here it is: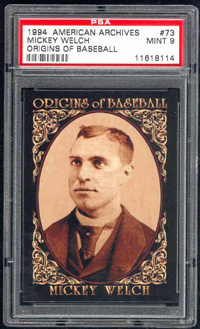 I like the 1886 H812 New York Baseball Club - just need to set aside enough money and get lucky finding one. I believe there's only one known example out there. Or, a N403 Yum Yum - that would be a nice fit too!

UPDATE: For Mickey Welch, I initially tagged the H812 as the card to get – a nice item contemporary to his career. For many years it was owned by a hobby friend who ended up selling it to another collector. At the National in 2012, I ended up talking to another friend who knew the owner. According to them, there was a small possibility he would be willing to sell it - here's the card:

Well, they were right. Soon thereafter, I was offered the card but had to turn it down. I wasn't able to meet the asking price. Several months later, in November 2013, the card appeared in a Legendary auction. I stayed in the game as long as possible but couldn't pull the trigger. And, the hammer price was well below the original asking price offered to me. Again, I just didn't have the means to make it happen. It was a bummer knowing another example doesn't exist and it may be awhile before the card was offered up for sale again. I'd have to wait…

UPDATE: On occasion I'll head over to the Net54 B/S/T site with hopes of finding a must have, maybe a 19th century gem that will fill a hole in my collection. As of October, 2014, out of the entire baseball Hall of Fame, I'm left with no more than 15 cards to have everything I really want. There's also the desire to upgrade several examples in the collection. That alone can take a lifetime. In either case, I usually came away empty handed after browsing the site and sifting through lots of 1909 T206s, 1933 Goudeys, and other action cards – no portraits for me. Over the past few years this has become a frequent occurrence as the vintage market seems to be drying up. Most of the tough cards I'm left with finding only come up in auction. Then, in late September 2014, the following post on Net54 caught my eye – "Considering trading my Yum Yum Mickey Welch". Funny thing, the seller and I enjoyed a nice conversation at the 2014 National in Cleveland during a chat room dinner event. Unfortunately, I didn't make the connection at first because the dinner was primarily of the liquid variety for me and I just didn't remember his name. I'm horrible with names. Worse yet, I really didn't have much to offer card-wise. I don't keep a lot of extra inventory and only had some extra W503s available to offer. My thoughts…"this just isn't going to happen". We exchanged a few PMs and eventually a trade looked unlikely. He decided to sell the card outright and threw out a price. There was a little surface damage on the right side of the card but the image still popped. Per LOTG Auctions…."beggars cannot be choosers when it comes to Yum Yums. This is an extraordinarily rare issue, with just 106 graded examples known. The set, which includes both illustrations and photographic portraits, promotes Yum Yum brand smoking and chewing tobacco and features players from the eight National League teams, plus the Brooklyn Grays of the American Association. The checklist for the unnumbered set currently includes 47 cards but may well include more." I had to make an offer but didn't have a lot of confidence it would be accepted. I felt it was fair based on comparable items but wasn't feeling it was going to be enough. I was wrong. I received the response I wanted – "I know it is going to someone who is going to give it a good home and not just flip it". He was absolutely right. The more I look at the image, the more I prefer it over the H812. And, it's a fixture in my collection for a long time.

The card was scheduled to arrive just a couple days shy of my 40th birthday. Yes, it was a birthday present to myself and I'll always remember this special purchase. After receiving the tracking number, the seller wrote me – "I am looking forward to the write-up for Welch on your website!!!" Here you go Chris – thank you so much for a great birthday present.